Enjoying the benefits of the latest technology, thanks to Animal Logic
How the latest donation changes the way we 'work'
We recently filled the new role of People & Partnership Coordinator. While preparing to onboard our Coordinator, it dawned on us that we were a computer short in the office.
Most businesses understand that doing work manually and without a desktop or laptop is almost impossible – it's tedious, non-productive and time-consuming. We needed a computer, and soon.
An unexpected call – Animal Logic to the rescue
As our supporters know, The Bread & Butter Project relies on donations to fill the gap in maintaining our training and operations costs, including gifts such as IT infrastructure. Animal Logic, one of the world's leading independent creative digital studios based in Sydney, heard of our dilemma. When they contacted us and proposed a very generous offer, we gratefully accepted. And wow, what an offer!
A brand new computer for B&BP  
Animal Logic donated one of their Hewlett Packard (HP) Z600 workstations for us to use. It's a desktop computer with all the accessories: a mouse, keyboard, monitor and a sound/speaker system. HP is a leader in computers and is known for producing reliable systems.
It's exactly what The Bread & Butter Project needs to be more productive so we can divert our time and energy to where it's needed most.
How the gift of a new computer will help us
With an increase in orders over the past few months, this computer gives us the tools to process the orders quickly for new and existing customers, manage the operations of the bakery more efficiently, and allows us to continue refining The Bread & Butter Project's trainee program.
The computer's quick processing power means the online tasks are completed faster, and we get to spend more time talking to our customers, supporters and bakery teams.
The workstation arrived 10 days before our Coordinator started, so we had plenty of time to set it up on the desk and make sure the software and applications we use were installed and working.
Big thanks to Animal Logic
We're very grateful for Animal Logic's generosity, and we're excited to welcome them into The Bread & Butter Project family as our newest supporter!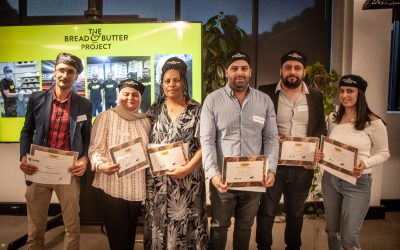 In early November, The Bread & Butter Project celebrated the graduation of its 2022 trainee bakers. Imad from Iraq, Suhir from Jordan, Hellen from Papua New Guinea, Georg from Syria, Savio from Iraq, and Meghrig from Syria were the latest refugees to complete our...
read more