Sydney's best bakery delights
For a foodie like me, my local neighbourhood offers a thriving café scene, bustling markets and gourmet artisans among the local food culture. 
So, if you're not one for turning out the perfect sourdough at home, there's no need to keep looking for a magic foolproof recipe. Simply hit the streets of Sydney for the best bakery delights, because the best crust – the flakiest pastry, served warm straight from the oven – is just around the corner. 
For Sydney's bakery bests, here are my favourite delectable picks.
Best croissant – "La Ren"
Start your day with the classic favourite of a golden baked, herby bechamel ham and cheese croissant at La Renaissance Patisserie. Or, if you're more sweet-toothed, look for their buttery, crème-filled, layered croissant sprinkled with a smidgen of almond flakes and a dusting of powdered sugar.
Affectionately known as "La Ren", this locavore-favoured patisserie celebrates 30 years as the home of authentic French pastries. And it's based right in the heart of the vibrant, historic precinct of The Rocks in Sydney's CBD. 
Best bread – Bourke Street Bakery
If there's one bakery that can tempt you away from a sleep-in after a long work week, it's Bourke Street Bakery. 
From humble beginnings in Surry Hills, the bakery has grown to become one of Sydney's most iconic food destinations. They're known for turning handfuls of flour into warm, glossy, brown-and-gold crusty perfection. And their range of daily specialty artisan (and vegan) breads are a testament to just how serious they are about bread. 
On Wednesdays, you can try their Prune & Roasted Almond sourdough, while on Thursdays, its Fennel, Raisin and Sour Cherry. Personally, however, I couldn't go past their Swiss Emmental, gruyere and smoked mozzarella cheese toastie.
Best bakery near me – High St Bakery
To Saturday like a local in Willoughby, stop by the established bakery-turned-café, High St Bakery. 
Try their signature baguettes, filled with classic Vietnamese pork banh mi. Each baguette is packed with greens, cucumber, pickled carrot, coriander, spring onion, pâté, homemade lemon-chive mayo and their own secret soy dressing. Alternatively, for the vegetarians, there's a crispy tofu version. Or, you could have eggs – however you like them – served with sourdough toast. 
Dine in the muted industrial décor of exposed brick walls and communal tables for a spot of lunch. Or, if you'd prefer, indulge in the smorgasbord of cakes and pastries that are popular with the sweet-tooth crowd. 
Despite the never-ending queue, whatever you choose will be worth the wait. They hand-make all baguettes on the premises daily, and use a locally roasted coffee too.
Best bakery in Sydney – The Bread & Butter Project
The Bread & Butter Project in Marrickville does more than just produce amazing baked goods. Every slice of delicious, handcrafted bread they produce helps to provide training and employment for people seeking refuge and asylum in Australia. 
As a social enterprise, the Bread & Butter Project is the perfect combination of crust and crumb, bakers and impact. They focus on baking quality specialty loaves, rolls, brioche and pastries that are packed full of goodness and flavour. 
And with wholesale distribution to over 200 cafés, restaurants and delis across the greater Sydney region, their bread is easy to find. That's why their Olive and Rosemary Flatbread, Pain Au Raisin or Fig, Raisin and Cranberry Sandwich Loaf features on so many dining tables throughout Sydney. 
It's all about the dough
As many of us can attest from our pandemic-fuelled obsessions with bread-making, creating real food takes time. So not everyone can rise to this challenge, no matter how many Tupperware containers we fill in an attempt to channel our inner flour power and bake sourdough. 
When it comes to making bread or pastries, though, it's all about the dough. To get the best taste, you need to use the best ingredients and work the old-fashioned way – by hand, with dedication and love. 
Bakeries are the heart of a town, and when it comes to choosing the best bakery in Sydney, we're spoilt for choice. 
So, I've decided to leave creating great bread to the experts – and I'll have mine to go.
Keen to support us? Donate now.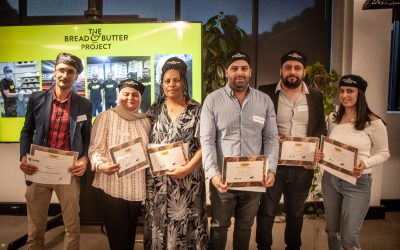 In early November, The Bread & Butter Project celebrated the graduation of its 2022 trainee bakers. Imad from Iraq, Suhir from Jordan, Hellen from Papua New Guinea, Georg from Syria, Savio from Iraq, and Meghrig from Syria were the latest refugees to complete our...
read more