5 easy and delicious ways to include sourdough with every meal of the day
Sourdough's popularity has been rising (no pun intended) in recent years, and 2020 saw a surge of interest in both baking and serving it. And there's no doubt that – with its tangy taste, chewy texture and satisfyingly crunchy crust – sourdough makes a great sandwich base or soup accompaniment.
But have you ever wondered what else goes with sourdough bread? Here are five versatile and mouth-watering ways you can include sourdough in every meal of the day.
Breakfast: Sourdough French toast
Given its sour, biting flavour, sourdough may not be the first bread that comes to mind when you think of French toast.
But hear us out – sourdough's texture actually makes it the perfect base for French toast. That chewy density absorbs the eggy mixture well without turning the bread into a mushy mess. And believe it or not, the biting sourness actually provides a great contrast to the taste of vanilla, sugar and cinnamon.
That makes sourdough especially great if you like your French toast loaded up with other sweet additions like maple syrup, berries or (don't judge us!) Nutella.
Snack: Baked brie in a sourdough bowl
There's something lush and decadent about gooey, warm brie baked in its own sourdough bowl.
To make it, simply cut the top layer off a loaf of sourdough and save it to chop into sticks for serving later. Then, using your wheel of brie as a size-guide, carve a brie-shaped hole in the remaining loaf. Brush a light coating of olive oil mixed with minced garlic over the exposed bread. And finally, slice a layer of rind off the brie, place the cheese in the bread, and then bake.
If you want to get fancier, you could also sprinkle the cheese with rosemary and basil, or add diced prosciutto. Or, if you prefer some sweetness, add cranberries and slivered almonds for texture and flavour.
Lunch: Sourdough avocado toast
If you're after a quick, easy, healthy lunch, avocado on sourdough toast is the answer. If you want to change it up, consider these topping combinations:
baby spinach, lemon juice and cherry tomatoes
a poached egg and a slice or two of bacon
roasted tomatoes with salt, pepper and garlic
sliced chorizo and spicy salsa
smoked salmon, feta and sliced tomato
Appetiser: Pull-apart bread
Pull-apart bread is one of those easy-yet-addictive ideas that can turn a regular loaf of bread into an appetising work of art.
To make it, take your sourdough loaf and slice a one-inch diamond pattern into the top, making sure not to cut right through to the bottom.
Next – and here's the fun part – drizzle some melted butter into the gaps in the bread. Finally, sprinkle in the fillings of your choice, such as cheese and garlic, jalapeno peppers, bacon or caramelised onion.
Dinner: Roast chicken and sourdough
Nothing says comfort like a home-cooked roast chicken dinner.
For a twist on the usual chicken-and-stuffing meal, tear apart a loaf of sourdough (even stale sourdough will work well) into small chunks. Toss the chunks together with diced onion, some sliced carrots, garlic, a squeeze of lemon, salt, pepper and olive oil. Then pour the mixture into a baking dish.
Place a few pieces of chicken – legs or thighs work especially well – on top of the mixture and bake. The sourdough will soak up the juices as it bakes, and you'll end up with flavourful, slightly crispy pieces of sourdough to go with the rest of your dinner.
Think of sourdough as a delicious blank canvas
The unique taste and texture of sourdough bread both offer an opportunity to be creative in how you enjoy it. What sorts of interesting flavour combinations do you think go with sourdough?
Pick up some of The Bread & Butter Project's sourdough bread from any of our stockists, and let us know what you come up with!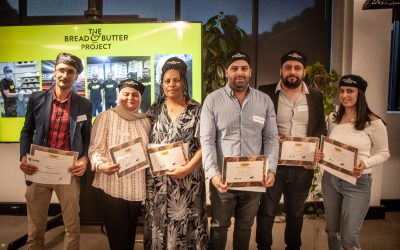 In early November, The Bread & Butter Project celebrated the graduation of its 2022 trainee bakers. Imad from Iraq, Suhir from Jordan, Hellen from Papua New Guinea, Georg from Syria, Savio from Iraq, and Meghrig from Syria were the latest refugees to complete our...
read more