How to store sourdough bread
You've been shopping and picked up your weekly sourdough bread supply, so it's ready for tasty lunches and irresistible late-night snacks.
But now that you've brought your fresh sourdough home and its wonderful aroma is filling your kitchen, how do you best store it to keep it delicious and fresh?
First: how NOT to store sourdough
The most important thing to know is that you should never store sourdough in your fridge.
The inside of a fridge is a very harsh environment that's much too cold and dry to store bread in. Your sourdough will get hard and stale much faster in the fridge than if you leave it out.
The good news: sourdough's easy to store
Along with its health benefits and great taste, sourdough bread has a longer natural shelf life than other breads. This is especially true compared with pre-packaged, store-bought loaves.
Sourdough's natural acidity discourages bacteria, which means you can keep it fresh for longer. You can generally expect sourdough to last for four to five days at room temperature.
Sourdough storage: the first two days
If you haven't yet cut into your sourdough loaf, store it in a closed paper bag or wrapped in a tea towel. This helps it to avoid drying out too fast, while also allowing air to circulate.
Once you've sliced into it, leave your loaf cut-side down and uncovered on a breadboard. This stops any moisture collecting on the crust, while still protecting the inside of your loaf from drying out.
Days 3-5
At this point, storing your sourdough in a breadbox or large plastic bag is the way to go. The crust will become softer as moisture gets trapped in it, but a quick toast will crisp it up again.
Another option at this stage is to use a natural beeswax wrapping. Not only are these very pretty, but they're also naturally porous. This means they'll help to stop the bread drying out while trapping less moisture, so your sourdough retains its crispy crust.
Day 5 and onwards
If you buy more than one loaf, or don't plan to eat your whole loaf within the first few days, you can also store sourdough bread in the freezer.
Sourdough can be frozen for up to six months, but the flavour will diminish the longer it is frozen.
It's important to make sure the bread is completely cool before freezing.
You can either freeze your sourdough loaf whole, or slice it before freezing. Slicing makes it easy to take out just one or two slices as required.
To freeze whole loaves:
Transfer your bread to a strong, sealable plastic bag such as a Ziploc bag.
Expel any air from the bag and make sure it's well sealed.
Place the bag in the freezer.
To freeze sliced bread:
Slice up the bread.
Transfer whatever you want to freeze into a Ziploc bag as above.
Place the bag in the freezer as above.
Some people also place a sheet of baking paper between each slice before freezing. This makes it even easier to defrost just the necessary amount.
How to refresh frozen sourdough
When you want to use sourdough you've frozen, defrost it in its plastic bag on the kitchen bench for several hours or overnight.
Once it's ready, pre-heat your oven to 175oC.
After the oven is completely pre-heated, remove your sourdough from its bag and very quickly run it under a cold tap or spritz it with water from a spray bottle.
Immediately place the loaf on the middle rack of the oven, and bake for 15-20 minutes.
Remove the bread from the oven and allow it to cool completely.
Your bread should now be just as delicious as when you first bought it, and its shelf life will be almost as long as a freshly purchased loaf's.
Using up leftover sourdough
If your sourdough does end up going stale, don't worry. There are many easy ways to make delicious use of your sourdough bread once it's past its peak freshness.
Below are just a few examples:
breadcrumbs or croutons
panzanella – aka bread salad
bruschetta
bread & butter pudding
Sourdough storage wrapped up
Keeping your sourdough loaf fresh and flavoursome is a simple matter of following the advice above. This will allow you to get the most out of your purchase and enjoy it at its best.
For further information on where to buy our delicious The Bread & Butter Project bread, along with sourdough tips and ideas, browse our blog.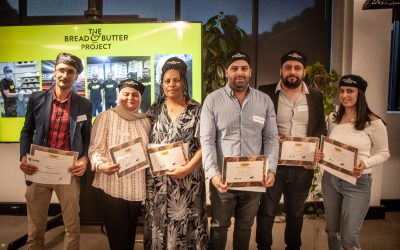 In early November, The Bread & Butter Project celebrated the graduation of its 2022 trainee bakers. Imad from Iraq, Suhir from Jordan, Hellen from Papua New Guinea, Georg from Syria, Savio from Iraq, and Meghrig from Syria were the latest refugees to complete our...
read more