Congratulations to our Baker Graduates of 2020!
2020 may have thrown quite a lot at us all. But, in truth, we're just thankful that it brought these wonderful people into our lives.
As Australia's first social enterprise bakery, The Bread & Butter Project invests 100% of our profits in training people seeking refuge and asylum in Australia to become qualified bakers.
Since 2013, we've provided training and employment pathways for over 55 trainees. This has not only helped boost their prospects of successful resettlement here, but also given them solid employment opportunities and helped to increase their sense of belonging.
How our training programme works
Trainees undertake a 6 to 8 month traineeship, which includes:
On-the-job bakery training
TAFE accreditation
English-language tutoring
Job readiness support
We then support our trainees to secure employment after graduation with like-minded organisations who are passionate about creating a diverse and empowered workplace.
Time to meet our latest graduates
These wonderful people were our graduating class of the first half of 2020. As an essential service, the bakery was able to stay open and our trainees were able to continue their learning.
Without further ado… here our our latest graduates…
First up, we've got Merry!
Merry loves nature and has a chubby and sassy rabbit named Gucci. Merry believes that life is a mission and wants to live her life serving humanity with compassion and love. She loves Star Wars and light sabres and if she could turn back time (and if Star Wars was real), she would save Darth Vader because he is not just a villain but a victim too and deserved to be loved. With a love like that, there would be no Darth Vaders!
Next up is Patil!
Weekends are for cultivating your hobbies and Patil here can make us all a little jealous with hers. Patil can speak five languages which are English, Turkish, Arabic, Armenian and Indian! And because that isn't nearly enough, she hopes to add Spanish to the mix in the near future! Go Patil!
Then we have Aidah!
Aidah loves to cook and never gets tired of trying out new recipes. She has two children, a son who is living in Lebanon and a daughter living in the United States. In her spare time, she loves to keep active with some hiking and yoga. We love Aidah's energy! And we're looking forward to trying some of that home cooking! Yum!
Say hello to Nidal!
Here he is fully immersed in his work at the bakery. Before moving to Sydney, Nidal was a pathologist in Syria, working in a laboratory for 25 years! Prior to that, he also worked as an actor and voice actor, translating many well-known TV shows and movies from English, including Les Miserables, Prison Break and 24! We can't wait to see what else Nidal has up his sleeves!
Next up we have Milad.
Milad is very creative and enjoys drawing and playing the drums. He has also worked as a fashion designer and enjoys designing outfits for his wife. He has a 5 year old daughter who loves riding her bike, and an 8 year old son who enjoys swimming. In his spare time he plays chess on his iPad, competing with people from around the world. Rook on Milad!
Wave at Rania!
A fun fact about Rania is that she, her husband and her two sons are all civil engineers! In her spare time, she also loves to cook healthy meals for her family. We hope Rania enjoys the challenges of her new career!
Hey there Mamdouh!
Mamdouh owned a restaurant and a timber supply company in Syria, but lost the life he had built due to war and conflict. Mamdouh is doing everything he can to start a new life in Australia to give hope to his kids- and he has a fantastically positive mindset about it! Mamdouh is the comedian of the group and always brings on the laughs. He loves taking his kids to game arcades whenever he can and they especially love the dodgem cars! He also loves old music you can dance to- especially Julio Iglesias! Thanks for the laughs and inspiration Mamdouh! Boogie on!!
Meet the lovely Saffa.
Saffa had a dream of becoming a dentist but studied to be a dental technician instead. She would like to open her own laboratory in the future. She also has an ambition to create an institution that cares for people with diabetes and cancer. Saffa came to Australia with her parents, sisters and brothers, and she wants her lovely family to be happy and have successful lives. We are rooting for you and your beautiful heart, sweet Saffa!
And lucky last we have Zaher!
Zaher loves his wife and children very much. He has an 8-year-old son and a 6-year-old daughter whom he loves taking to the pools, the park and the shops. He worked as a nurse for 12 years and was very passionate about caring for all the children who came into the hospital.
So there you have it! This is our wonderful team of graduate bakers. We're grateful to have them in our lives and so lucky to have had yet another diverse and loving group in the bakery.
Keen to support us? Donate now.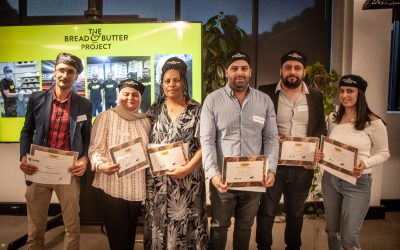 In early November, The Bread & Butter Project celebrated the graduation of its 2022 trainee bakers. Imad from Iraq, Suhir from Jordan, Hellen from Papua New Guinea, Georg from Syria, Savio from Iraq, and Meghrig from Syria were the latest refugees to complete our...
read more