Meet the inspiring graduates of The Bread & Butter Project's 2022 class
In early November, The Bread & Butter Project celebrated the graduation of its 2022 trainee bakers. Imad from Iraq, Suhir from Jordan, Hellen from Papua New Guinea, Georg from Syria, Savio from Iraq, and Meghrig from Syria were the latest refugees to complete our traineeship, which includes on-the-job bakery training, TAFE accreditation, English-language tutoring, and job readiness support.
We were proud to host a fun filled evening celebrating the graduates' achievements at Canva's headquarters in Sydney, with more than 100 supporters of The Bread & Butter Project in attendance, including board members, commercial partners and of course the friends and families of our wonderful graduates.
We support our trainees to secure employment after graduation with like-minded organisations who are passionate about creating a diverse and empowered workplace. Over the past decade, we have provided training and employment pathways for more than 60 trainees, helping to create a more diverse and empowered workforce.
The impact of The Bread & Butter Project also goes beyond employment opportunities. For many trainees, the program has provided a sense of community and belonging. Hellen, one of the graduates from the class of 2022, credits The Bread & Butter Project for giving her the opportunity to find her first job and support her family.
"The Bread & Butter Project is a lifesaver – it is more than a place of work, to make money, or to get paid," Hellen said. "It is a place that promotes and upholds the dignity of a person or a family and gives them hope for a better life, especially those of us who wanted to make Australia our second home."
We're grateful to have had yet another diverse and passionate group graduate from our bakery. Congratulations again to our newest fully-fledged bakers!
If you're interested in learning more about The Bread & Butter Project or supporting our cause, click here.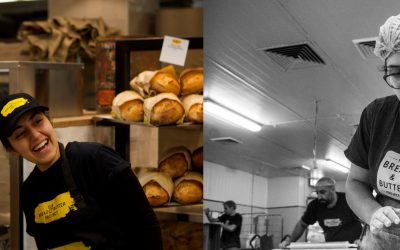 Our exciting Bake for a Baker crowdfunding campaign came to a close in early April, and we were thrilled to welcome our amazing participants for a special online graduation ceremony where they made the transition from trainees to master bakers! Overall, the campaign...
read more