Exciting times! We've just opened our first Woolworths Metro concession store
In April we announced our retail partnership with Woolworths Metro. We're so excited to finally reveal that we've now opened our first concession store inside Woolworths Metro Park Sydney in Erskineville.
This is the first time Woolworths Metro has outsourced its bakery operations to a third party. As of November 2020, we're now in full production mode inside the store – baking delicious sourdoughs and bakery treats for Woolworths Metro's customers.
Our wonderful trained bakers are on-site every day to mix, prove, shape and bake up to 10 different Bread & Butter Project sourdoughs. Everything is made from scratch, so you know it's the freshest sourdough you can get in inner Sydney.
We're also making a range of rolls, baguettes and 'grab and go' items such as garlic and cheese knots, garlic bread, and other specialty products every day.
While you're perusing the range and deciding what to enjoy, take the chance for a chat with the two smiling faces behind the counter – Steven Qaqas and Salwan Shaooka. Their stories are incredibly moving, having both fled Iraq to escape the threat of ISIS and settled in Australia as refugees. They're proud to be graduates of The Bread & Butter Project's baking apprenticeship program, and we're proud to have them on the team.
100% of profits helping refugees and people seeking asylum
This isn't just any bread… this is bread that tastes good and does good.
As with all our sourdough and bakery sales, 100% of the profits from our store within Woolworths Metro Park Sydney go to training programs and employment pathways for refugees and people seeking asylum.
Cindy Carpenter, our Chairperson, said the Woolworths Metro Park Sydney store signals the beginning of a bright new era for us.
"It goes without saying that we are incredibly excited to be opening our first concession store with Woolworths Metro, as it gives us the opportunity to bring our delicious bread to a wider audience, starting in Erskineville," said Ms Carpenter.
"At the same time, we are extremely grateful for Woolworths' ongoing support throughout what has been a very tough year for small businesses around the country.
"Without this support, we would have been in a very difficult position, but now we are looking at a positive future and exploring further growth opportunities into 2021."
Our partnership with Woolworths, confirmed at the height of the COVID-19 pandemic in April, also represents a shift in our business model. Before 2020 we predominantly operated as a wholesaler, supplying 25 Woolworths Metros across Sydney with our high-quality sourdough directly from our Marrickville bakery.
Now, the expansion into our first Woolworths Metro store will also provide vital future training and employment opportunities for our trainees, at a time when alternative work options are in short supply.
Our training programs see trainees receive hands-on baker training and a TAFE Certificate II in Food Processing, as well as intensive tutoring in English and numeracy.
So far we've had 45 professional artisan bakers graduate and move into employment in Australia's hospitality industry. Moving forward we'll have capacity to take up to 30 new trainees a year. This in turn means we're helpingo address Australia's chronic shortage of skilled bakers, with the Department of Education, Skills and Employment reporting that for much of the past decade, employers have experienced significant difficulty filling vacancies for bakers, with only 31% of vacancies filled in 2018.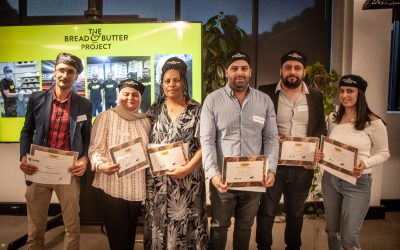 In early November, The Bread & Butter Project celebrated the graduation of its 2022 trainee bakers. Imad from Iraq, Suhir from Jordan, Hellen from Papua New Guinea, Georg from Syria, Savio from Iraq, and Meghrig from Syria were the latest refugees to complete our...
read more