All about bear claws: The sweet history of an American favourite.
When was the last time you got stuck into a delicious danish?
How about a doughnut?
Or… something in between? Say, a bear claw?
The bear claw pastry has been an American household favourite for almost 100 years. With the rugged looks of a danish and a sweet nutty filling, it's an unsung hero of the puff pastry world.
Let's have a little look into the history of the bear claw and what goes into making one.
WHAT IS A BEAR CLAW PASTRY?
Created in California in the early 20th century, the bear claw is a flaky, gooey treat that pairs perfectly with your favourite coffee.
A puff pastry with various fillings that have changed throughout the years, it has now evolved to become one of America's bakery favourites.
It's a straight-up comfort food that warms the soul, much like apple pie.
Not quite a doughnut and not quite a danish, the bear claw holds its own sweet spot in the vast world of assorted pastries. Think sweet fillings and a whole lot of sugary glaze, topped off with a gorgeous almond crunch!
Sounding good? Wait until you hear what's in them.
WHAT'S IN A BEAR CLAW PASTRY FILLING?
Traditionally, a bear claw pastry contains a rich almond paste filling. Top this off (sometimes) with raisins and cinnamon sugar, and you're ready to dive in.
But, much like with pies, bakers have created many variations over the years. Other popular fillings include
cinnamon
apple
cherry
pecan
cream cheese
Add just the right amount of sugar and butter (and perhaps a touch of brandy or amaretto), and you've got a rich filling that's right at home in a fluffy, raised puff pastry.
GETTING THAT BEAR CLAW SHAPE
Bear claw pastries get their name from their unique semi-circle shape and the sliced, curved edge.
Just one look at the way each little section of the pastry raises on its own, and it's hard to avoid noticing the similarities with bears' paws.
As the yeast raises, each section forms its own little 'claw'.
But how do these slices get cut into the dough?
For a while now, machines have been cutting mass-produced bear claws, which are then pre-packaged and sold in supermarkets.
Making them by hand is a tad easier.
A simple pastry cutter can cut individual slices into the edge, and then stretch the pastry out.
But if you want something quicker (and just a little more fun), there are special bear claw pastry cutters  you can use to make the full pattern in one simple movement.
Looking like a mini water wheel, this clever device rolls easily across the pastry edge, making evenly spaced cuts as it moves from one end to the other.
SO WHERE CAN I FIND ONE OF THESE AWESOME PASTRIES?
We're glad you asked!
While excellent bear claws are easy to find in North America, they can be a little trickier to locate on this side of the planet.
But don't stress, we've got you covered.
At The Bread & Butter Project, we've been working hard to deliver the best wholesale bread and pastries across 200 locations around Sydney.
So if you'd like to get your hands on a delicious bear claw pastry, you can find them in these Sydney supermarkets
Woolworths Metro
Harris Farm
You can also support our work  by purchasing directly from various markets, home delivery services and fine food providers across Sydney.
Want extra info on existing stockists, or to become a stockist yourself or donate to the fantastic work we're doing? Find all that information here.
Posted in Bakery Tips, UncategorisedTagged pastriesEdit "All about bear claws: The sweet history of an American favourite."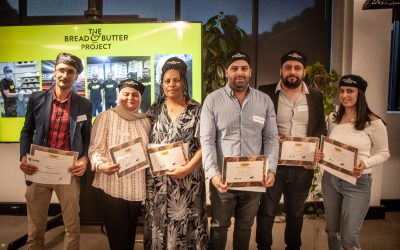 In early November, The Bread & Butter Project celebrated the graduation of its 2022 trainee bakers. Imad from Iraq, Suhir from Jordan, Hellen from Papua New Guinea, Georg from Syria, Savio from Iraq, and Meghrig from Syria were the latest refugees to complete our...
read more