Bread shapes: how to tell a boule from a batard and what to do with each
Every bread-eating culture has its own bread shapes, styles, flavours and baking traditions. One of the great things about The Bread & Butter Project's multicultural team of bakers is learning about these different traditions and influences. 
Two popular bread shapes that we use here are the boule and the batard. Like their better-known sibling, the baguette, both shapes come from French baking. 
Here's how to tell them apart and some delicious ways to enjoy these bread shapes.
What is batard bread?
The name 'batard' relates to the shape of the loaf. Some people describe the shape as like a shorter, wider version of a baguette or French stick. Others compare it to a football or rugby ball, because it's slightly narrower at each end and rounder in the middle. 
And according to BAKERpedia, it's also sometimes called a torpedo loaf.
Regardless, it's not clear who invented the batard, but food historian Jim Chevallier traces the shape back to at least the mid-20th century.  Because the name is about the shape, not all batard bread is the same. A quick search online will turn up everything from the classic white batard to modern flavour combinations. If you're baking at home, you can even find video tutorials on how to master the batard bread shape.
Our batard bread comes in a range of sourdough flavours and is always a popular choice.
What is boule bread?
Boule bread history goes back much further than batard history, and it's possibly one of the most popular of all bread shapes. The word boule literally means ball in French. One look at this big, round loaf and it's not hard to see how it got its name. 
The same bread shape is also called a cob in some places like the UK.
In his glossary of French bread, Jim Chevallier explains that boule bread was a staple of French baking for centuries and was even used as a symbol for bakers. It's not surprising, then, that the term grew into today's French word for bakery: boulangerie.As with the batard, boule bread is named for its shape. Because it's a large loaf, you should expect a crusty outside and a soft centre. The shape also helps the bread stay fresher for longer, which Bryan G. Newman of Behind the French Menu credits with making this a popular bread shape in France today.
How to choose a bread shape
Batards and boules are just two of the many different shapes of bread. Slippers, string, candles and eels are some of the more unusual things to have influenced the naming of bread shapes according to TasteAtlas. With so many shapes to choose from, our advice is to think about what will work best for the meal you want to create. 
Here are some of the ways our bakers recommend using batards:
Slice and add garlic butter before grilling for the perfect garlic bread 
Top a toasted slice with scrambled eggs and hollandaise 
Dunk in a milky egg mixture and then pan fry for a delicious take on French toast
The boule bread shape is so versatile, especially when you cut off the top and rip out the soft bread inside before you: 
Fill it with a creamy cheese mixture for a party crowd pleaser (save the soft bread pieces for people to dip with)  
Layer in antipasti and cheese, then bake and slice for a wholesome dinner 
Follow us on Instagram for more inspiration!
Let us eat bread, in all its shapes
The variety of different bread shapes available gives us ample opportunity to enjoy this delicious staple food for many cultures around the world. 
Whether it's a sandwich made from fresh batard bread or a slice of crusty boule bread and butter, we hope we've inspired you to try something new. 
If you'd like to support our work and enjoy fabulous bread, check out the shapes and flavours we're baking now.
Keen to support us? Donate now.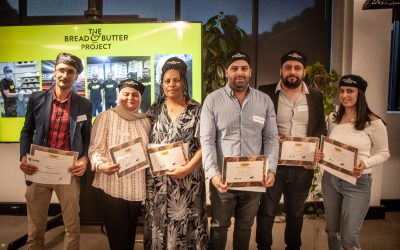 In early November, The Bread & Butter Project celebrated the graduation of its 2022 trainee bakers. Imad from Iraq, Suhir from Jordan, Hellen from Papua New Guinea, Georg from Syria, Savio from Iraq, and Meghrig from Syria were the latest refugees to complete our...
read more