Introducing our current baking apprentices
We're very grateful to have been busier than ever in 2020. We announced a great new partnership with Woolworths Metro and we continued to bake our delicious sourdoughs and bakery treats for our wholesale and retail customers.
Of course, none of this would be possible without our baking apprentices. As Australia's first social enterprise bakery, we invest 100% of our profits in training people seeking refuge and asylum in Australia to become qualified bakers. This is our second group of apprentices this year and we can't wait to see them graduate and take on roles within the industry.
Time to meet our latest apprentices
Say hi to Agha!
Agha arrived in Australia from Pakistan 14 months ago with his wife and children. Before coming to Australia, he worked in pharmaceutical marketing and was a medical rep manager. Now he lives in Blacktown and is proud to be a Bread & Butter Project baker. He is so kind-hearted and giving, he also works as a volunteer curry cook and serves as many as 1000 people.
Next up is Yamin!
Yamin arrived in Australia from Burma six years ago with her family and six siblings. She finished her high school education in Australia and is now fulfilling her love of creating new foods while training as a skilled baker.
Then we have Masar!
Masar came to Australia from Iraq 4 years ago with his family. When he arrived, he immediately signed up to study English at TAFE. As a result, Masar speaks and understands English extremely well. His profession when he lived in Iraq was a Goldsmith. Masar is currently living in Liverpool with his family and has a weakness for cakes and sweets. Don't we all!
Say hello to Suad (aka Suzie)!
Suad is originally from Somalia and arrived in Australia 8 years ago with her daughter. She studied English at TAFE and her ambition is to open her own business in the future. Suad has an incredible skillset, having worked in the Australian Embassy in Somalia and as an interpreter for the UNHCR. She currently lives in Guildford and finds joy in baking the perfect sourdough every day.
Next up we have Shamran.
Shamran left her home country of Iraq four years ago. She arrived in Australia with her mum, dad and brothers. In Iraq she was a Kurdish teacher with a love for sewing, cooking, sport and exercise. She's now looking forward to building her baking career in Australia.
Welcome to Nael!
Nael arrived in Australia from Iraq with his wife and son just over a year ago. He signed up to study English at TAFE and is excelling in his studies there, and here at The Bread & Butter Project. Prior to coming to Australia Nael was a student in Lebanon. He lives in Liverpool and travels 1 ½ hrs by train to work each day. But, he's looking forward to getting a car so he can have a little bit more time at home in the mornings doing his favourite thing – cooking breakfast.
Hey there Jean Robert!
Jean Robert left the Democratic Republic of the Congo seven months ago to start his new life in Australia with his wife and children. He had an extraordinary career working with UN agencies, community health and in logistics before coming to Australia. He loves cooking for his family and going to church on Sundays.
Say hello to S. Ahmad!
S. Ahmad is originally from Afghanistan and arrived in Australia with his wife and three children two years ago. He immediately signed up with TAFE to study English. In Afghanistan he worked as the Head Cleaner at the Australian Embassy, so he's already a quick study of the Australian accent. He lives in Lidcombe and has a weakness for pizza and cooking his favourite Afghani foods.
Say hi to Tseten!
Tseten is originally from Tibet / India and has been Australia for just over nine months. He arrived in Australia with his brother and can already hold a conversation well with his fellow Australians. Back home, Tseten spent 12 years in a Buddhist Monastery. He then worked in clothing and homestays. He likes cooking, reading, and talking.
And lucky last we have Heerna!
Heerna is the Yamin's elder sister and arrived in Australia from Burma at the same time, six years ago. Heerna finished her high school studies in Australia, completing her HSC. She loves hospitality and food technology. And we love having her on the team.
We hope you've enjoyed learning a bit more about this fantastic group of baking apprencties. We'll post back here once they graduate and let you know how they're all getting on.
Keen to support us? Donate now.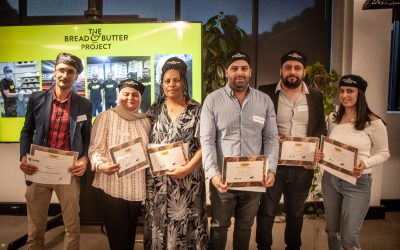 In early November, The Bread & Butter Project celebrated the graduation of its 2022 trainee bakers. Imad from Iraq, Suhir from Jordan, Hellen from Papua New Guinea, Georg from Syria, Savio from Iraq, and Meghrig from Syria were the latest refugees to complete our...
read more