Where to buy sourdough online
What's better than freshly baked sourdough?
How about ordering it online from your sofa and having it delivered to your door?
If you're reading this, I don't need to tell you about the wonders of sourdough. What you want to know is how to get more of its deliciousness in your life (without becoming a baker, although you can speak to us about that too).
Sure, it's romantic to imagine baking your own bread, but let's get real. When you can order artisan-quality sourdough online, why wouldn't you?
So if that starter's getting you down, or it never even started, don't fret. We've got your sourdough cravings (read: needs) covered.
We've done the research to ensure your weekend breakfasts are forever-filled with the heavenly aromas and crunch that separate you from the softest sourdough in town.
You're welcome.
CTT: Weekends without sourdough are like birthdays without cake #sourdoughsaveslives
Sourdough, stat
The weekend's finally arrived. You roll out of bed late, do some yoga and go to rustle up some brekkie. Far from breakfasting bliss, all you can find is a frozen piece of Mighty White at the bottom of the freezer under a split tub of ice cream.
Don't let your weekend turn down this unfortunate path – be prepared.
Your options:
Make friends with your local baker (which you should do anyway)
Take sourdough lessons (online or in-person)
Order a sourdough starter and bake at home
Borrow someone else's starter
Start from scratch and ferment your own
Order your freshly baked sourdough online in advance.
Don't get caught out. Make sure you've always got fresh sourdough in your bread bin.
Click away
Get your fresh sourdough to order, without lifting a finger (well OK, maybe just one).
Order online for click and collect or home delivery with these Bread & Butter Project artisan sourdough suppliers:
Your nearest Woolworths Metro (good on ya', Woollies)
Box Fresh: 1300 735 418, greg@boxfresh.com.au
Doorstep Organics: 02 8399 1666, orders@doorstep.com.au
Ooooby: 1800 774 706, sydney@ooooby.com
This means you can order your fresh sourdough with your regular online shop – how bloomin' marvellous.
While you're at it, why not check in with your local bakery or grocers too? Who knows, with enough interest, maybe they might even start up a local sourdough delivery service.
Sourdough school
Making bread is the new black. Never be out of things to talk about at that next dinner party and learn how to 'bake it yourself' with these awesome online classes:
Plus, watch this space for when the Bourke Street Bakery starts their legendary live sourdough classes again in 2021. They're run by Paul Allam and his wife Jessica Grynberg, founders of the Bread & Butter Project.
DIY
Be a sourdough pioneer and order your sourdough starter online from one of these suppliers:
Cultural exchange
Make friends with someone and steal their starter culture, or ask your local baker or sourdough-toting mate if they might share some fermented love. Ain't no harm in asking, after all.
When COVID-19 first hit, Sydney-born, New York-based Chef Xinyi Lim @megafaunafood began mailing her dried starter around the country to more-than-grateful sourdough fans in isolation.
From scratch
Order a book online, hunt one down at your local library or search through the gazillion online lessons that teach you to bring your very own starter to life.
Don't fancy trawling through Google?
Here's a good recipe to get you started from The Clever Carrot.
There's no stopping you now.
Wholesale sourdough online
Are you a restaurant, café, grocer or supermarket who loves your customers?
As Sydney's #1 retail and wholesale sourdough bread supplier, we deliver freshly baked wholesale loaves to the finest food providers in Sydney. We're talking the likes of Woolworths Metro, Harris Farm and other local grocers in the know.
Join over 200 eateries, delis and markets that are already treating their people to the best bread around and place your sourdough online order to become a local stockist.
Hi-Top days are officially over
The Bread & Butter Project is a ground-breaking local Sydney sourdough bread supplier that does more than just bake amazing artisan delicacies. They also provide a hopeful future to hundreds of people seeking refuge and asylum in Australia. And they guarantee you'll never have to cry into that sad-looking frozen Hi-Top slice again.
With all these options for getting your sourdough online (and having it delivered fresh to your door), why would you ever settle for that stale, plastic-wrapped loaf again?
Find a B&BP Stockist Near You.
As a bonus, do you know your semis from your wheys? Your batards from your hoagies? Find out what you should be adding to your shopping cart now by checking out our drool-worthy breads list.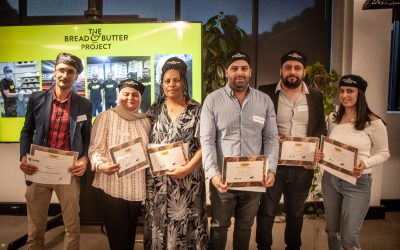 In early November, The Bread & Butter Project celebrated the graduation of its 2022 trainee bakers. Imad from Iraq, Suhir from Jordan, Hellen from Papua New Guinea, Georg from Syria, Savio from Iraq, and Meghrig from Syria were the latest refugees to complete our...
read more