Our friends at Westpac visited us to hear from our Chairperson Cindy Carpenter and trainee Lina about how the bakery is managing through COVID-19 impacts to the hospitality industry, and how the generous support of donors such as the Westpac Foundation has made such a big difference.
Check out the video below for more.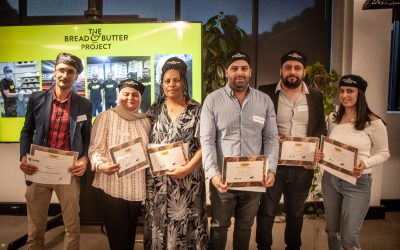 In early November, The Bread & Butter Project celebrated the graduation of its 2022 trainee bakers. Imad from Iraq, Suhir from Jordan, Hellen from Papua New Guinea, Georg from Syria, Savio from Iraq, and Meghrig from Syria were the latest refugees to complete our...
read more