Looking for the best sourdough cookbook?
To make your favourite airy, tangy, crusty loaf at home, you'll need the best sourdough cookbook. But with so many out there to choose from, which book is best? Just like a good sourdough, it depends on your taste. So whether you're a fan of our Fig & Raisin loaf or more of a Dark Malt devotee, read on to find a sourdough cookbook that's perfect for you.
For the new starter
If you're just starting out in the do-it-yourself bread-making world, the best sourdough cookbook for beginners is Artisan Sourdough Made Simple, by Emilie Raffa. The book features step-by-step, master recipe guides, so even those of us guilty of multiple sourdough fails will be making artisan creations in no time.
According to the book description, the author makes the sourdough baking process so easy, it can 'fit into even a working parent's schedule!' And with over 60 recipes, it's the perfect place to start your sourdough journey.
When you want a visual feast
When you need beautiful images with recipes to inspire your baking, the best sourdough cookbook is Tartine Bread, by Chad Robertson.
It's been described by The New York Times as '…the most beautiful bread book yet published…' and has more than 200 step-by-step photographs and 50 recipes. The sourdough looks so good in the pictures that you can almost smell the aroma of freshly baked bread.
Another incredibly beautiful sourdough cookbook is the aptly named Sourdough, by Casper Andre Lugg and Martin Ivar Hveem Fjeld. As well as containing gorgeous imagery, the book has clear instructions for 15 recipes, cook's notes and a troubleshooting section to help you make your best sourdough yet.
ALL of the recipes
Modern Sourdough, by Michelle Eshkeri, is the best sourdough cookbook for someone who thrives on variety. With more than 100 recipes, it covers everything from traditional bread to biscuits, pizza dough, sweet pastries, pancakes and even pies. It's the book that has something for everyone.
So if you're still a beginner, you can learn how to make your own sourdough starter. Then, once you've mastered the basics, challenge yourself by creating some mouth-watering brioche feuilletée.
The A–Z of bread
For the bread boffin who has it all, there's only one cookbook: Modernist Bread, by Nathan Mhyrvold and Francisco Migoya. While it's not a specialist sourdough cookbook, it does have some interesting sourdough recipes like Cherry Pie and Chocolate Chip Sourdough, and Matcha Green Tea Sourdough.
That said, with an eye-watering $825 price tag, this 5-volume, 22kg bread encyclopaedia is nearly worth its weight in gold.
Back to sourdough school
These cookbooks all have something to offer aspiring sourdough bakers. But if you'd like to make truly life-changing bread more cost-effectively, we recommend investing in a sourdough-making class at The Bread & Butter Project instead.
Perfect for corporate team building, the sourdough-making classes at The Bread & Butter Project take you through the whole baking process. You'll learn everything from making your own starter to kneading loaves and crafting delicious, sweet pastries.
Then, at the end of the class, you can take home all you can eat, along with your very own copy of The Bread & Butter Project recipe book.
Perhaps the most inspiring part of the class is hearing a Trainee Baker describe how The Bread & Butter Project offers new career opportunities to asylum seekers and refugees. Trainees at the social enterprise learn to become qualified bakers, which boosts their confidence, prospects of employment and successful resettlement.
If you can't make it to a class, you can still support The Bread & Butter Project's transformational work by making a tax-deductible donation now. Happy baking!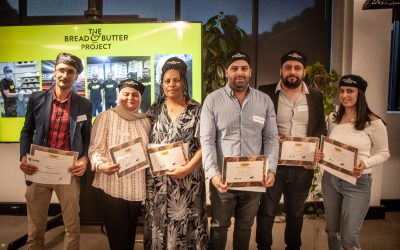 In early November, The Bread & Butter Project celebrated the graduation of its 2022 trainee bakers. Imad from Iraq, Suhir from Jordan, Hellen from Papua New Guinea, Georg from Syria, Savio from Iraq, and Meghrig from Syria were the latest refugees to complete our...
read more